It is now more than five decades since the invention of the zero-turn mowers, and they have dominated the commercial and residential market for premium lawn mower equipment. With more than 30 brands to choose from, you will never be limited to choice when shopping for zero-turn lawn mower. But to pinpoint the best zero-turns on the market today, you have to know what to look for.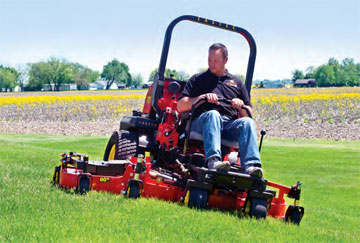 Buying zero-turn mowers can be compared to buying a car because any car can move you from one place to another. Likewise, any lawn mower can cut grass but the quality of the finish, the speed of machine, and the level of comfort that you get when using it will vary. To make sure that you get the best zero-turn mower you should consider the following important things when shopping for one.
Ease of Operation
Zero-turn mowers should be easy to operate and use for you to mow your lawn efficiently. Regardless of whether you have prior experience with these type of mowers or not you should be able to figure it out fast. An excessively complicated mower will only make things difficult for you, and you will also not enjoy using it. The controls should be well labeled and easy to understand and ideally they should be as few as possible because the more they are, the more confusing it will be for you
Comfort of the Zero-Turn Mower
Whether you intend to mow a small backyard or a couple of acres you should never compromise on your comfort when using the zero-turn mower. Consider things like the leg room, the seat and ease of getting on and off the mower. You should choose a mower with enough leg room and an adjustable seat so that you can be as comfortable as possible when using it.
Durability & Quality Controls
A good zero-turn mower will not come cheap and so it should be durable if you do not want to spend more money on a new one a few months down the line. The sturdiness of the deck construction and the frame are two things that will determine the durability of the mower. Also, consider other things like the gauge of the steel used and the protection surrounding the engine to get a good idea about the durability.
Brand of the Zero-Turn Mower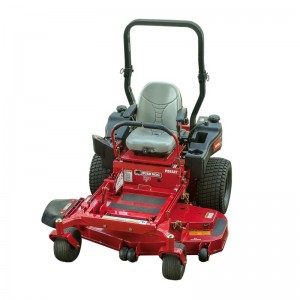 When shopping for zero-turn mowers you can never overlook the brand as it is one of the most critical factors that define a good mower. Leading brands like Bush Hog and Land Pride are popular in the manufacture and distribution of these mowers because they produce top notch quality mowers.
By choosing reputable brands like Bush Hog and Land Pride you can be guaranteed of buying a quality product.
Additionally, it's easy to find replacement parts for leading brands of zero-turns. Using the latter example, it's easier to find replacement Land Pride mower parts for zero-turns, as well as Bush Hog zero-turn parts over most other brands on the market.
Mower Attachment
Besides from mowing your lawn the zero-turn mower can also be used for other purposes and so you should consider the attachments. Lawn mowers can come with other attachment like aerator, sprayer, brush, dethatcher and many more. Consider the availability of these attachments if you intend to use the mower for other purposes other than mowing.
Power Behind the Zero-Turn Mower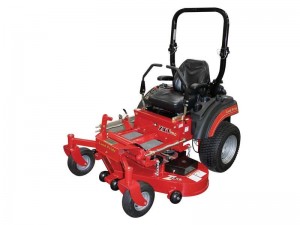 Cheaper zero-turn mowers can come with a single cylinder engine, and so they will not provide you with a lot of power. For more power, you should choose mowers with Twin-cylinder OHV engine. Besides from giving you more power these type of mowers run smoother with less vibration.
For more information on zero-turn mowers and why shop some of the leading brands on the market, visit German-Bliss Equipment. This zero-turn mower supplier has three locations in Illinois:
German-Bliss Equipment East Peoria
215 Fairlane Dr
East Peoria IL 61611
Phone: 309-694-3700
Phone: 1-800-728-4734
Fax: 309-385-2540
German-Bliss Equipment Princeville
624 W. Spring St
Princeville IL 61559
Phone: 309-385-4316
Phone: 1-800-728-4734
Fax: 309-385-2540
German-Bliss Equipment Springfield
4151 W. Jefferson St
Springfield IL 62707
Phone: 217-546-2286
Fax: 217-546-2276