Agricultural systems developed by specialized weight management manufacturers help farming and ag producers better manage crop yields and harvest loads more efficiently. Through the combination of knowledge and application of the latest technology and agricultural business principles, the weighing solutions that have been developed over the years have offered many opportunities to advanced crop management processes to the next level.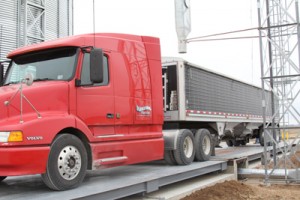 Three crop management systems for weighing and managing harvests are making statement for farmers. These include: grain dump truck scales, portable truck axle scales, and steel-deck weighbridge scales. Each of the weigh scale systems offer individual benefits depending on the farmer. Below we go into greater detail about each.
Grain Dump Truck Scales
Grain dump truck scales cater for the agricultural sector of grain producers. This type of weighing systems are designed and manufactured by the company Ag Weigh. Their grain dump truck scales are highly efficient in agricultural operations because their design is the result of half century of experience on the market.
The Ag Weigh company produces grain dump truck scales that come to answer the needs of its customers. They feature a cost effective design that allows efficient management of grain production in the farms. The grain dump truck scales offer exceptional durability and high level accuracy. Their modular design provide advantages such as no crane required to set the scale, minimal freight expenses, easy access for maintenance, and simple installation process.
Portable Truck Axle Scales
Portable truck axle scales cater to the segment of farmers having many fields and requiring multiple weigh sites. Portable truck axle scales are developed by many manufactures specialized in weighing solutions, including Ag Weigh.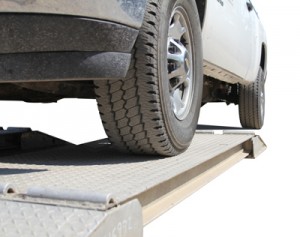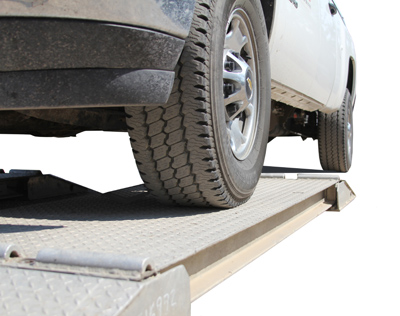 These portable truck axle scales come with many useful features that ensure that the crop management system works to the advantage of farmers. The weighing pads offer portability for a greater convenience. The weighing setup is easy to perform at the farm, while saving time and money.
These portable scales have the ability to weigh farming trucks either dynamically or in motion. Portable scales come in two primary forms, including the Portable Axle Scale Systems and the Portable Weigh Pads.
The portable weigh pads are versatile in operation and calculate and manage load weights. The portable axle scale systems are designed as an effective solution for determining weigh inputs during production times or when farmers are seeding.
Steel-Deck Weighbridge Scales
Steel deck truck scales provide a top access and a low-profile design to load cells on heavy duty structural construction. These steel deck weighbridge scales can function both as a pit-type and above ground.

Steel deck weighbridge systems are developed by several companies, including Walz Scales. Walz Scale, one of the leading truck scale weighbridge manufacturers, features unique self-setting connectors for future expansion and easy installation. The concrete deck or structural steel sits atop a network of i-beams. They are designed for extreme performance and extreme durability, due to their steel deck or concrete configurations. Applications that require weighing many vehicles per day can take advantage of the super heavy duty design.
Farmers interested in getting the most of each inch of land in their farm can take advantage of these effective crop management solutions designed by the manufacturing companies of weighing scales. The engineers have developed several effective solutions that have been proven in real life environments and agricultural practice to be very effective at solving agricultural producers' common problems.
These crop management systems come with additional advantages, such as maximizing efficiency and reducing the input cost. These advanced technological solutions come to ensure that farmers are able to get the most value of their crop yields during the harvest season.