For farmers, it is very important to have accurate and reliable ag scales and weighing systems for determining the exact weight of the harvested produce. The good news is that there are a lot of innovative ag scales and weighing technologies to choose from.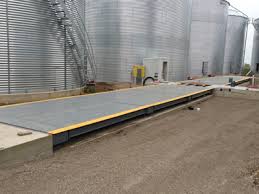 One industry-leader in ag scales and weighing solutions for farmers and agricultural producers is AgWeigh. This company focuses its business model on producing and supplying advanced truck scales, weighing systems, and software solutions specifically for those in the ag industry.
There are three different types of farm and ag scales from AgWeigh that are common among high-volume farmers. Each weighing system is known to be very dependable and durable for intense use throughout the harvest season.
1. Portable Truck Scales
If you are looking for a weighing system that can deliver a convenient and cost effective solution for managing yields in various locations, you need to consider portable truck scales from AgWeigh. Also known as portable axle scales, these weighing systems are ideal for farmers and agricultural producers that require ultimate portability in their weighing operations.

They are very accurate and efficient when it comes to weighing harvests and managing data. They can be easily and seamlessly integrated with Yield Pro software platform that is also offered by AgWeigh. This will enable you to factor-in moisture levels of your yields, keep track of crop weights, and manage various fields with greater ease and efficiency.
In a nutshell, the following are the advantages that you will get by using these scales.
Seamless portability
Extreme durability
Multiple Configurations
Waterproof design that is ideal for use in all seasons
AgWeigh also offers weigh-in-motion portable truck scales, which offer exceptional throughput and efficiency for high-volume farmers that deal with many loads. Below is a video that shows these in-motion portable truck scales from AgWeigh.
2. Grain Dump Scales
You can also use grain dump scales from AgWeigh to effectively weigh and manage crops on your farm. Grain dump scales can deliver extreme operational efficiency during the harvest season for grain producers. They feature an innovative design that will provide you with an economic solution for managing farm production.
Grain dump scales also feature a suspension design that offers exceptional protection to load cells. Debris will be kept out of the electronic components of the system to allow you to clean the truck scale with absolute ease.
They are made from heavy duty steel that will provide many years of use with very little maintenance requirements. You will also find the steel deck design to be very convenient if you want to relocate the scales in future.
The following are the advantages of the grain dump scales.
Ease of installation
Exceptional accuracy
Durable design
Extreme efficiencies
3. Weighbridges
Weighbridges are heavy duty weighing ag scales for large scale farmers. if you're a small scale farmer, they will not be suitable since it will be pointless to spend a lot of money on scales as big as this for small scale purposes.

Weighbridge scales are built to handle huge quantities of farm yields in order to reduce labor time. You need to consider these truck scales if you are a large quantity farmer or commercial farmer. They will help you assess your productivity, valuate your harvest, calculate your crop load weights, and determine the overall success of your business.
The following are the advantages of the weighbridge truck scales from Ag Weigh.
Extreme heavy duty construction that is very durable
Outstanding performance
Delivers perfect accuracy
Flexibility with respect to weighing needs and location
Learn more about weighbridges by visiting the parent company of AgWeigh, Walz Scale.