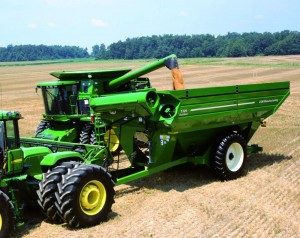 For grain producers that need to frequently weigh the harvest loads of their grain, finding the right weighing solution can be tricky. On-board grain cart scales are great solution to this harvest weighing need. On-board grain cart scales are weighing systems that are integrated directly on grain carts, making it easy to determine the precise weight of grain loads during operation.
If you're a grain producer interested in on-board grain cart scales and related ag weighing systems, we encourage you check out the grain cart scales at AgWeigh.com, or learn more about these systems below.
On-board Weigh Scales for Grain Carts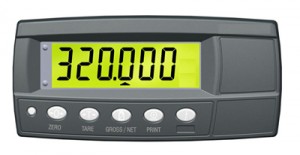 The general grain cart scale has an on-board weighing sensor and a weight indicator (an LED screen which displays the net weight grain load in the cart). With some grain cart scales, an alarm light will allow you to monitor the weights when loading or unloading the grain cart.
Grain cart scales can be installed on just about any type of cart without any hassles. Also, you will not have to make changes to grain carts because the on-board weighing system adapts to it. This is a very simple and intuitive device that is very easy to use.
How Do Grain Cart Scales Work?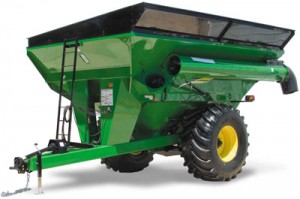 The principle behind it is pretty simple. The grain cart scales have electronic pads which are made up of aluminum. When weights are placed on them, they display the measurements on LED screen. Sometimes, for greater accuracy, these weighing pads are coupled together, and feature an integrated motor. The grain cart scales different specifications and load cells. Almost all cells can still remain functional even when overloaded with extra weight. Current technology allows a particular scale to hold up to 2000 LBS.
Some of the higher end models, employ motion sensors to measure the payload as and when the grain cart is in motion. This way the weighting process becomes faster and more efficient. These scales can also be paired up with computer software programs to help optimize operations.
Features, Value, & ROI of Grain Cart Scales
Although on board scales might seem unnecessary to some, the value for money and efficiency they offer on the long run is undeniable. What is more? These cart scales are very precise in their duty and are very easy to install. Designed for maximum durability during operation, grain cart scales can very well weather rough environmental conditions too.
Some of them can work wirelessly and display their readings on a handheld monitor. Each scale can display 2 types of data in real time i.e the gross weight and the axle weight. One can also view the measurements under different measurement units.
General Advantages & Benefits of On-board Grain Cart Weighing Systems
The grain cart scales system is ideal for recording the weight immediately and eliminates the need for expensive anti theft solutions, as it lets you know the amount of grains procured from each cart right from the word go.
On-board weighing systems will let you know the actual weight of your vehicle and content instantly, without you needing to transfer
Even a very basic grain cart scales system is very accurate with a margin of error of ± 1% of gross vehicle weight.
The grain cart scales are installable on your existing grain carts, without you needing to make any modifications or new purchases.