There's no doubt that it's quite costly to invest in truck scales and other high-capacity crop measurement systems. For this reason, farmers are beginning to leverage a more cost effective option of renting truck scales during the busy harvest season.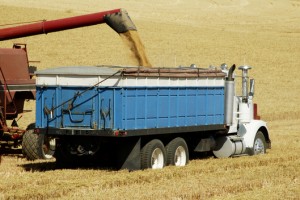 Truck scale rentals are more ideal for farmers given the fact that their needs are short-term and these expensive scales do not directly add to the overall value of an agri-business 365 days of the year. Whether the truck scale rental is needed for a weekend or several months, leasing truck scales for rent is an ideal solution for farmers and agricultural producers.
Harvest Season
Harvest time for farmers is both the busiest and the best time of the year in regards to farmers selling their produce for a greater return on their investment. With the on slot of harvest comes the need for efficient and accurate weighing solutions for a farmer's crop loads.
Outright purchasing a weighbridge for sale or a truck scale system can be quite an expensive investment for a farmer. Therefore it's ideal and more cost effective for a farmer to rent the equipment during harvest time.
Truck Scale Rentals: The Optimal Solution
There are a number of truck scale systems that are available for rent on the market today. Most often, portable truck scale rentals are the very best options that offer a host of benefits to agricultural producers as well as farmers.

Portable truck scales provide farmers with the ultimate amount of performance, convenience and versatility for a wide range of agricultural settings. The renting of the equipment is unequivocally an ideal option that allows for agricultural producers and farmers to save a great of money while still able to fulfil their weighing needs.
Given that there are many types truck scales that are available for rent are portable, they are moveable and can be relocated throughout the farm as needed during the harvesting process. This makes the solution expressly flexible and convenient for farmers, especially since the entire crop will not need to be taken to a specified weighing station. One of the best providers of portable truck scale rentals are Payload Pros and Ag Weigh. Below is a video of one of Ag Weigh's most advanced portable truck scales (which is available for rent and called an "axle scale") that offers in-motion weighing capabilities for faster throughput and advanced data management.
The Benefits of Portable Truck Scales for Rent
There are a number of benefits that are associated with the use of a rented portable truck scale. The most notable benefits include the following:
Easy Installation – It takes only a matter of minutes for the scale to be properly installed and setup. They will only need to be placed on the ground, then setup within the terminal. From there, farmers are more than ready to take measurements of their produce.
High Accuracy Levels – Portable truck scales are extremely sensitive and are able to deliver highly accurate and reliable measurements.
Portability – These truck scales are able to be relocated to anywhere within the farm that it may find itself needed. Given that they are not bulky, they are able to fit on the boot of a vehicle and be set up at any needed location.
Easy-to-Use Weighing Terminal – Each rentable portable truck scale has been fitted with terminals that are user-friendly and equipped with an LCD screen. The terminals also possess the capability of printing and storing all of the collected weight data.
Given that agricultural producers and farmers are not in need of consistent and constant weighing solutions, truck scales for rent are both extremely cost efficient and highly effective. Farmers are able to complete their short and/or long term weighing solution goals minus that need to heavily invest in equipment that is only utilized once to twice per year.